One thing I've learned over the past year is how to train smart.
In essence, this means listen to your body.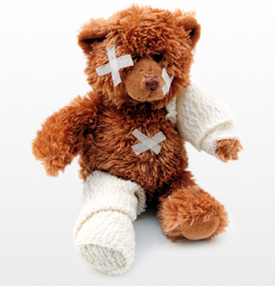 When something is hurting, it's not because it doesn't like you.  It's because something is wrong and your body is trying to signal to your brain to heal it and to you to quit using it so it can heal or to quit doing a certain motion that it doesn't like.
As you all know, I've sprained my wrist.
Does this mean I'm sitting on my ass all day, twiddling my thumbs?
Um…no…
I hit the pool.  I hit the roads for runs.  I back squatted.  Heavy.  I did what I could with what I still had.  While the rest of me healed.
You keep moving.  Keep striving towards your goals.  Despite your setbacks.  And often times you will come back stronger and hungrier because of it.
So remember:  don't ignore pain.  Deal with it.  Smartly.  Give your body the time it needs.  If you don't, you'll regret it.  You'll often injure it more severely, adding more time for healing AND you could even do permanent damage.
Two weeks to heal?  Acceptable.  Two months?  Heart-breaking.